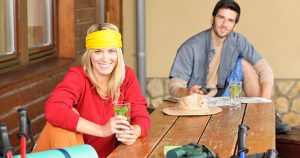 Drinking plenty of water is good for health in a number of way, it's also good for the brain's health. Cognitive function is increased when the body is getting plenty of water. Your brain is mostly made up of water so it helps to have plenty of water in order to keep it functioning properly. For your body it helps your skin glow by giving skin cells plenty of hydration, aides digestion, and even helps the process of ridding your body of toxins.
Key Takeaways:
Drinking water can help improve your concentration and balance your mood and emotion. It can also help you lower stress levels.
Drinking water instead of sugary drinks or soda is a great way to lose weight and also prevent diabetes.
Water allows your muscles to recover and repair because it prevents cramping and carries oxygen to your body.
"When you're in need of brain-healthy nutrients, you might also be at a disadvantage, but don't forget to start with hydration."
Read more: https://brainmd.com/blog/6-amazing-health-benefits-of-drinking-water/